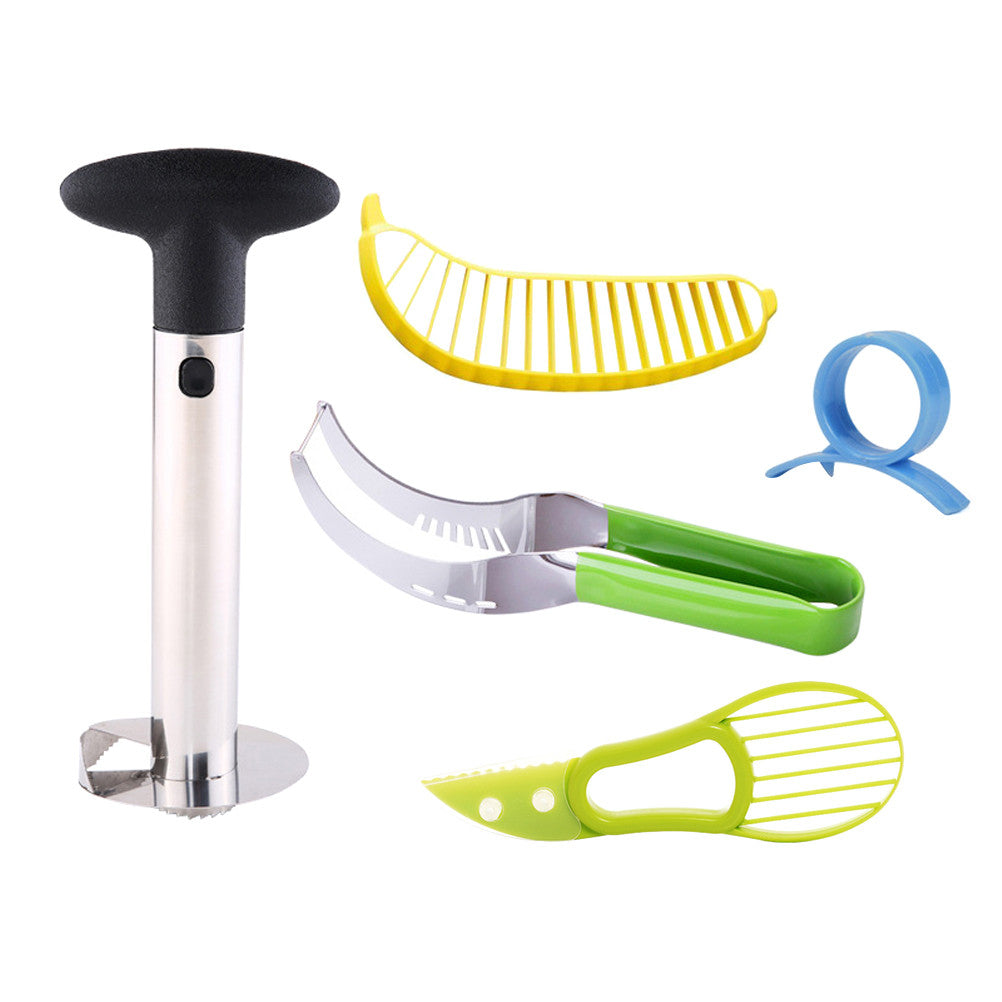 5 Set of Fruit Slicer Pineapple Corer Watermelon Slicer Avocado Slicer Banana Slicer Orange Peeler Cutter Knife kitchen Tools
Regular price $11.25 $22.00 Sale
Description

Everyone knows that consuming fruit and veggies is of paramount importance as they are the perfect source of vitamins and nutrients. However, the whole process of struggling in order to peel, slice and cut a fruit or a vegetable makes us choose easier to prepare, yet less beneficial goods. What if you could turn slicing and cutting into an enjoyable, easy and fast task? Get ready to adopt healthier eating habits and enjoy fresh, juicy, delicious fruits and vegetables anytime you feel like it!

Features

- Color: As shown.
- Material: ABS and Stainless Steel.
- Package Size: 25 * 9 * 9cm / 9.8 * 3.5 * 3.5inch(L * W * H).
- PINEAPPLE SLICER / CORER: Just whack the top off and use the slicer like a cork screw, cutting the flesh out effortlessly while leaving the core in the shell. The pineapple peel remains intact so you can use it for serving a drink or fruit salad.
- BANANA SLICER: Safer than a knife, just peel the banana off and use the slicer to easily slice your banana in one quick motion. Kids will love to slice their own bananas now!
- WATERMELON SLICER: Discover a whole new way to enjoy your watermelon, this two in one utensil combines the functionality of a knife with the handiness of tongs to easily serve slices of watermelon.
- AVOCADO SLICER: This fantastic 3 in 1 utensil will make your cooking experience amazing, cut, the avocado remove the pit without damaging the fruit and easily slice it.
- ORANGE PEELER: This is a simple and practical way to peel oranges, the blade cuts without damaging the orange and easily remove the peelings with the edge.